Over the last thirty years, every branch of the military has gone through cycles where inventory management of key parts has failed to forecast supply needs, or maintain the necessary parts on-site to ensure a high level of equipment and mission readiness.
The Department of Defense (DoD) manages several million secondary inventory items, such as spare parts, which have a value north of $100 billion. The Defense Logistics Agency (DLA) manages about one-fifth of this total.
Over the last few years, stories about military readiness have grabbed headlines provoking concern that the military needs to do more to better manage its supply chain. Some of the most popular stories have included Marines needing to get parts from museums to keep aircraft flying, or U.S. Air Force groups venturing to the Arizona desert to remove parts from aircraft boneyards to keep planes flying. The guided-mission cruiser, USS Normandy, lost 13 mission-essential parts to the Eisenhower Carrier Strike Group, including a cable harness for its spy radar. Sub commanders have reported that cannibalization happens at a rate of 1.5 parts per day in order to maintain ship operations.
However, despite the salacious headlines that have grabbed the attention of Congressmen and become fodder for candidates pushing for more military funding during an election year, #cannibalization of partsis something that has been steadily rising since the rapid growth of military budgets in the 1980s. In 1987, the New York Times ran a similar story about how the lack of parts and emphasis on new equipment was forcing cannibalization of parts and diminishing readiness.
Poor inventory management and cannibalization of parts has gone on for many years
In truth, poor inventory management and the cannibalization of parts, has been a constant despite the best efforts of the government.
Overall, the solution most branches of the military seek is to secure funding increases from Congress.
For example, the U.S. Marine Corps has requested $460 million from Congress in fiscal 2017, some of which would buy spare parts for aircraft. Despite this increase, the Marine Corps estimates that aviation readiness will not recover for another few years – 2020 at the earliest.
This does not ultimately solve the continued problems surrounding #military supply chain management.
In 1996, the #GAO cited the Army for overestimating its part requests by close to $200 million, and said the Army's system for managing inventory was inaccurate. The Army said it would not be updated for at least 4 years while other DoD initiatives took precedence. The GAO expressed concern then that there was a risk that existing data problems could be rolled into the new system when it came online, which would only continue to result in inaccurate projections and forecasts.
Spring ahead to 2009, and the GAO evaluation of Army supply chain management noted that over a 4-year period, "the Army had significantly more inventory than was needed to support current requirements. At the same time, the Army had substantial inventory deficits." The GAO further wrong that the "Army's demand forecasts have frequently been inaccurate."
In short, inventory management and forecasting continues to be a significant problem.
While recent GAO reports have outlined many recommendations, including the need for DLA to "reduce on-hand inventory and on-order excess inventory while reducing backorders" of parts as component of improving inventory management, the fundamental need for the DoD, and its logistics services, is to get better control of inventory management and forecasting.
At ISO Group, our Defense Logistics Management System and supply chain intelligence services, are designed to provide the historical trends in part ordering and use that are keys to the puzzle of supply chain management and risk avoidance.
Spare parts intelligence for all military equipment and weapon systems
ISO Group's #Defense Logistics Management System (DLMS™) is a proprietary database of over 125 million part numbers and 12,000 certified suppliers. It is a good starting point for the U.S. military, because it uses supply chain analytics and decades of historical data – both for the U.S. and foreign militaries. (Read more about ISO Group's DLMS™)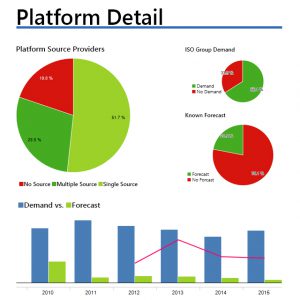 Within our system we can analyze by weapon system, demand, user base, geography, forecasting and more. We also can examine pricing trends and supply chain risks, so purchasing can be done at optimal times and from the best sellers.
In situations where inventory needs to be reduced, we have inventory marketability tools that can identify potential areas of sales opportunities.
Overall, the government has made a number of efforts to improve military supply chain management of important parts. For agencies, such as the DLA, or for logistics groups within the different branches of the military, supplementing existing systems with ISO Group's DLMS could help improve part supplies to ensure greater mission readiness, as well as maximize limited budgets.